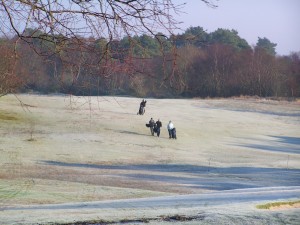 Gents Frostbite Competition 2018/19
The Gents Frostbite commences on Sunday 9th December 2018 and will run weekly until Sunday 24th February 2019.
The format is the same as previous years, i.e. Stableford from the yellow tees with 3/4 handicap allowance. The format is designed to be over 11 holes but it will be modified if only 9 holes are in play. Players should register in the pro-shop who will help make up groups of players. Entry is £3 each week with the entry allocated as follows, £1 into the weekly prize, £1 into the overall winner's prize fund (1st and 2nd place), £0.50 into the weekly scorecard draw and £0.50 into the hole-in-one pot.
The Hole in One Pot will start at a fantastic £364.50  The overall winner will be the player who scores the highest average score from their best six rounds, so in order to be in for the main prizes, players need to complete a minimum of 6 rounds. Otherwise every week there will be a first and second place for the highest points (countback will apply) to share the weekly pot, the pro will draw the scorecard raffle and winners will be notified via the noticeboard with their prizes available via the pro-shop.
Generally the roll up is at its busiest around 10am. Members, however, are welcome at any time during the day. David Lutwyche is the 'frostbite manager'.
Latest News