Club Events
Bar And Catering
The Club Bar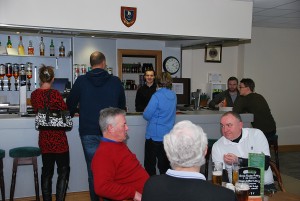 The Club Bar has been refitted to a high standard. In the main Golfing Season our Bar is open 11.00am to 11.00pm Monday to Thursday and till 12.00pm Friday & Saturday, and has great menus ranging from freshly prepared sandwiches or delicious light bites to main course dishes. Our staff are fully trained Baristas to serve you superb quality espresso based coffees. Within the bar, there is plenty room for entertaining, for groups of 10 to 20 people. We have a wide selection of beers (including alcohol free) and spirits to choose from and our knowledgeable and friendly staff will be happy to assist you.
Joe's Bunker
Is open for members and their guests. Sandra and James have over 35 years experience of catering in Clubs and outside events. They pride their menu on what the golfer wants complimented with daily specials.The menu changes on a regular basis with strong emphasis on quality and freshness. 
Sunday is "Carvery Day" and at £8 / head why would you cook at home, come to the Golf Club, enjoy the view and friendly atmosphere. Most of all, enjoy having no dishes to do after your meal! Dessert of the day will be available at an extra cost.
Non-members are welcome to come and eat but alcohol may only be purchased and consumed by members, member guests and those who are members of any other licensed club in Scotland (proof of membership will be required). House Membership is available to all.
If members or visitors have any particular request we do our best to accommodate.
Helensburgh welcomes group bookings of any size, from a few friends to a major competition with anything up to 100 golfers. Whatever your requirements we can cater for them.
All food is prepared fresh and we are also available for meetings,weddings, funerals, private dinner parties etc. For more details of catering, please contact us on 01463 674173 (Ext 4)
Group Bookings & Outings
We have the pleasure of offering the following options to visiting golf parties of four or more. We offer Groups & Societies Package 2019, which include an ideal venue for Corporate Events and Society Outings, from a welcoming Bacon Roll, pre-round instruction and swing checks, course and hole branding, through to prize giving. Contact us and we will be happy to help organise your perfect golfing day.
PRIVATE FUNCTIONS
Our Lounge / Function Suite is available to book out for private functions, celebrations and Funerals. Please complete the Events Enqiry Form and return to:

Bookings may be made through the club office
Tel: (0)1436 674173 or email g.m@helensburghgolfclub.co.uk
Or by contacting the club professional,
Tel: (0)1436 675505 or proshop@helensburghgolfclub.co.uk